I have this problem.  If there's something really sad that happens in a show or a movie, even if the ending is redemptive, it's hard for me to get over the sad thing that happened.  
When I was a child and I watched the beautiful animated movie Charlotte's Web, I was crying so hard at the end that when her three little spawns dangled down on their little spider threads and introduced themselves to Wilbur, it seemed to console Wilbur, but it did little to console me.  I remember the inner dialogue between myself and the movie writers, as if I could talk to them, "Hey guys, I know what you're trying to do adding those cute little baby spiders at the end, but it's just not enough, OK?  I still miss Charlotte!"
I had a similar, albeit probably more pathetic experience (having been a little older), when I saw The Lion King movie for the first time.  Even though Mufasa dies very early on in the movie, and so much happens on Simba's journey to make it one of the most redemptive stories, like, ever, for some dumb reason as the movie credits rolled down the screen at the end, I had tears rolling down my cheeks - not of joy, like a normal person, but because I was still upset about Mufasa's death.
 I don't know why I react so strongly to even fictional stories (both examples were even animated movies about animals! At least they were animals that talk).
Perhaps it was because I struggled with depression for fifteen years, and if you've ever really, truly struggled with depression, then you know that when you're in the thick of it, it seems as though there's nothing you can do to make it go away, so you just distract yourself from it.  
Perhaps watching movies with sad moments reminded me of a despair in my own life I thought would never go away.
Thankfully, I stand before you a healed woman now, truly, thanks be to God (if you want to hear that story, we should go out for a cup of coffee - or maybe I'll share it here some day). 
---
I share all of this exposition as the setting for my experience with the musical Dear Evan Hansen. Written by one of Broadway's most sought-after writing teams, Benj Pasek and Justin Paul, with a book by Steven Levenson, DEH follows the story of a teenage boy who has extreme anxiety issues and thus faces major social challenges at school.  He has a massive crush on a girl with whom he's hardly ever held a conversation, and his main struggle is making friends with anyone at all. It's heartbreaking from the first downbeat. The story takes us on a journey that is half-hopeful, half-anxiously-bracing-for-a-tragic-downfall, and thankfully ends leaving us with a little redemptive light.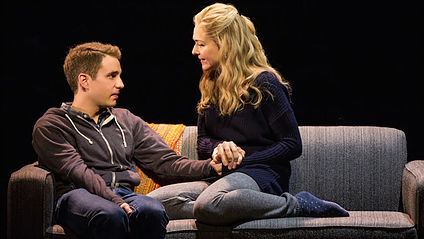 If I were not healed of depression, I would not have been able to handle watching this musical.  
Even being healed, the only thing holding my heart together enough to keep it from breaking into two throughout the whole show was the hope that the ending would somehow redeem the troubling scenario created by our lovable leading man.  
It did - sort of, but it didn't feel as organic and potentially real as I would've liked.
But at least it didn't tie up Evan Hansen's life into a pretty bow with all of his dreams coming true either.
There were some gorgeous, touching moments, most especially the song sung by Evan's mother towards the end "So Big, So Small" which unites mother and son in a deeper way than ever. That song alone made the journey worthwhile.  
The music is utterly engaging and original, and the cast recording is one I could easily listen to on repeat.
I'm def a Pasek and Paul fan. 
I believe that healing, wholeness, love and redemption are possible for all.  

I wouldn't be able to watch shows like Dear Evan Hansen if I didn't believe that - not without falling apart emotionally (just being real, here).  
What I appreciate most about the story is that there are elements of it in which lies became truth.  
Not just the literal lies that the title character perpetuated which came into the light, but the lies he'd previously believed about himself - that he was unworthy of love, unworthy of friends, and unworthy of a loving father - were all proven untrue.  
When I see someone like that in a story, I want to leave feeling that this character is completely healed and aware of his identity as one who is loved unconditionally.
But it is hard for one story to convey that level of completion in a protagonist.
There was enough change to give us hope that he could achieve those things, and for that I am appreciative. 
It does make me wonder if there are people around me like Evan Hansen who I ignore because I find them annoying or they have nothing relevant to contribute to a dialogue, or are emotionally needy.  
Are there people in my own life, in my classroom, in my family, sitting next to me at church, who are waving through a window because they feel like I'm not hearing them?
Maybe if we all allow Dear Evan Hansen to change us to not only notice people around us who are maybe less lovable than our story's hero, but to befriend them, then there will be less people who struggle with rejection and isolation.
If we choose to not merely be spectators and consumers of emotional stories about struggling humans needing someone to care, but rather respond to such stories by becoming the ones who do care, maybe theater can have a deeper impact than moving us to tears for two and a half hours.  
And thus, maybe more healing, wholeness and redemption will happen in the world around us, and not just on the stage.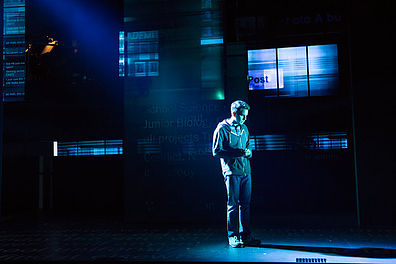 ---
©2017 Virginia Hart Pike.  It is strictly forbidden by law to copy and paste or use any of the above material for any other purposes than this website without signed consent by the author, Virginia Hart Pike. 
*Disclaimer* ALL IMAGES USED HAVE BEEN SOURCED FROM REPUTABLE INTERNET SOURCES WHERE PERMISSION FOR REUSE WAS LABELED AS SUCH - www.viriginahartpike.com DOES NOT CLAIM OWNERSHIP OVER ANY IMAGES UNLESS EXPLICITLY STATED